While the kids are on holiday, companies are busy pushing ahead with efforts to install new digital advertising screens in Bristol. Bristol Council are currently considering applications for several proposed developments. Three applications are listed below, with more details on the Adblock Bristol website our website.
Do you live or commute near one of these areas? Comments from residents explaining how these proposals would practically effect their daily lives are particularly powerful.
Click on the links below to submit your objection!  
On Cole Road, adjacent to St Phillips Causeway
Ocean Outdoor have submitted an application to install TWO giant digital display screens measuring 12m wide! This is the resurrection of an old application which was successfully defeated. The deadline for objecting is Friday 9th August.
At a busy junction on Feeder Road
Advertising giants Clear Channel want to replace an existing double billboard with a new digital billboard. Please object to this proposal situated on an accident hotspot before Friday 16th August.
Finally, at the junction of Rudthorpe Road and Gloucester Road
Clear Channel also want to install a replace an existing structure with a digital billboard to be illuminated day-and-night next to people's homes. Submit your comments before Tuesday 20th August.
Residents resistance works! In recent years, over 40 new advertising developments in Bristol have been stopped or restricted due to community pressure. Let's keep up the pressure and show these companies that Bristol is our home – not their business opportunity.
---
Help install artwork on our community billboard
It's not all doom and gloom! Instead of peddling corporate messaging, the Burg Arts Community Billboard offers a positive alternative to advertising by showcasing beautiful, affirmative artwork.
To save money and spread awareness, we're going to install the next piece ourselves, and we'd love for you to join us!
We're hoping to gather a small team of new volunteers to make the installation happen. We can teach you all the technique and provide some fantastic company. You can try your hand at outdoor wallpapering –  on the only billboard offering a true contribution to St Werburghs!
We'll be installing the latest piece next Wednesday 14th August – weather permitting!
We'll start the process from 3pm in the afternoon with plenty of time for those who'd like to join us after work. There's no commitment or previous knowledge necessary. You'll find us at The Burg Arts Billboard on 105 Mina Road, BS2 9YD.
Ever been curious about how to billboards are installed? Come and learn with us! Check out more information on the Adblock Bristol website and on Facebook, and let us know if you're able to make it!
---
Trees butchered to make way for adverts
Our final news is a twist in the tale of the new digital advertising screen on the M32. Adblock Bristol has learnt of intentional damage caused to several trees located on Council land at the highly polluted underpass at Napier Road, off Stapleton Road.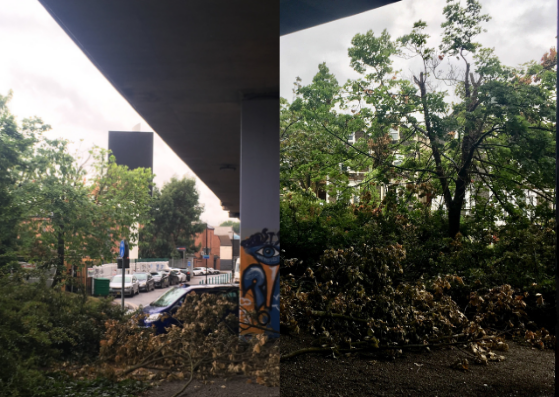 We believe the damage to these four trees was deliberately carried out to improve the view of the electronic billboard from the motorway. With huge thanks to the local Councillors and campaigners who have given guidance, we will bring you more news as soon as possible.
Meanwhile, if you're as enraged as we are, you can share the message on social media or send an email to planning.enforcement@bristol.gov.uk to demand responsive action.
Let's protect trees over corporate profits!
With thanks,
Leigh
Adblock Bristol