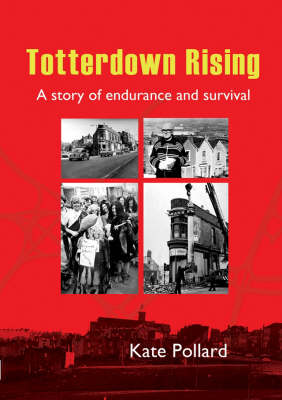 "Totterdown Rising" is a book about a community that was split in half to make way for a road that was never built. But it's not a book about a community beaten into submission by a local council's obsession with the motor car, it's a story of how people rebuilt their community and reinvented the very special Spirit of Totterdown. But there is more to the story than a tale of a resurgent community.
Kate Pollard's detailed research has uncovered some alarming facts about the role of the City Council in the demolition of Totterdown. It appears that the detailed plans to knock down an entire community, shops and pubs was never voted on and that the council pressed ahead with the demolition before they had received Government backing for the Road plan.
In the course of researching this book, Kate Pollard also discovered that many of the houses that were demolished to make way for the Outer Circuit Road were the subject of compulsory purchase orders. In the case of a number of houses, the owners were absent and were not found within the timetable of the demolition process. In case they reappeared at a later date to discover their houses had gone, in around 1970 the Council lodged a fund in the Unclaimed Balances section of the Chancery Courts in London so that some compensation could be administered to them. Through painstaking research, Kate Pollard has tracked down that money and discovered that the unclaimed balance of it should have been reclaimed by Bristol City Council many years ago. In July 2006, Bristol City Council's Senior Solicitor (Corporate) confirmed that the money was still held at the Court Funds Office. At the time of going to print, investigations were continuing into the status of the fund.